Thursday, May 19, 2005
tee hee. im quite excited about sentosa too!! jus 48 hrs and 20 mins more till meeting u all again!! who's gonna bring camera?? haha..
*cons rocking off at 10:34 AM
***
Wednesday, May 18, 2005
hello,this is siying with nothing better to do.just trying out to see if my display name will appear..haa..looking forward to sentosa! =)
siying- rocking off at 11:28 AM
***
Tuesday, May 17, 2005
Hey pple! By this time u all shud receive my SMS or my calls!! Jus to remind u all again,
meet at 11am @ HARBOURFRONT MRT STATION
Pls try not to be late tho i expect most will!! So pls.. if u all gonna be REALLY late, kindly inform anyone of us k!? thanx!! N EVERYONE! Pray for NO rain!! else so not fun!
n may i ask who's the person who post the

PURPLE

msg?! :s
YUWEI
03S73 rocking off at 3:12 PM
***
hi all!
yay! finally one class outing i can go!! haha.. it's been so long since i last saw all of u! missing u all.. and sentosa would be fun! i hope i can get a nice tan.. hah.. think im becoming yellow la.. so long period of inexposure to sunlight.. cant wait!! haha.. oh ya.. im slacking everyday now.. got any ideas what i can do? dunno if i shld go get another job leh... im quite lazy. heh..
oh ya! i just went sentosa last week.. but it was raining la! so not fun.. no sun. but we had pilates on the beach. cos my fren is a pilates instructor. haha. but it was quite funny.. dun really like pilates. oh and we shldnt go siloso beach cos the cleaner at sentosa say a lot of ppl drown there.. the day i went someone died there. got police car somemore.. but of cos i didnt get to see the body.
oh and wat time is our class outing?
constance
*cons rocking off at 2:01 PM
***
Sunday, May 15, 2005
hey dudes and dudesses,
wah, got so many responses, goooooooooooooooooood. ANYWAYZ...i got an idea, we should hit the cinemas after the class outing...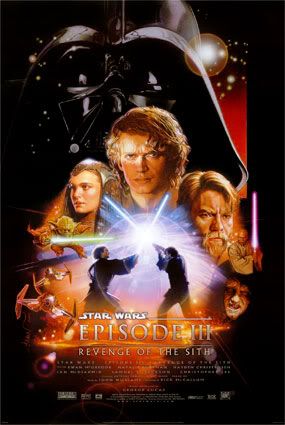 .
watch the stars wars shall we?
Han rocking off at 12:38 PM
***
Saturday, May 14, 2005
Heyheyhey! Haa..since Alew took the time off to write down a post here..theres no reason as to why a slacker like me isn't writing at all..:p
Eh yup. Saturday ya? I see you guys there! Everybody muz not fly kite k? Lets play like long before again at sentosa! Unless some unforseen circumstances crop up...*indented breakfast, combined rehearsal..guard duty..* I'll probably be around to slack! Haa..anyways 21st will be my very last saturday free until NDP..so i guess its a grand way to end it all.
Ohyeah. I got into nus. material science engineering. any takers? :) See you guys there!
jiaho.
03S73 rocking off at 11:15 PM
***
Big HI to All from the big A of L.E.X...
Ah...finally got myself down to type this one short entry in... been lazy and slacking around at home... amazing wat NS does to ppl.
Yeah I think a class gathering at Sentosa would be great...count me in! Haven't seen the rest for some time already. I think i can make it for any Sats, but there will be a
slight
chance tat i could be stuck in camp......touch wood.
Do hope everyone can turn up, let's make this really memorable.
Alex lah, who else.
03S73 rocking off at 1:51 AM
***
Thursday, May 12, 2005
Hey pple!! Yeah.. i'll be classmates as Chew again! cool man.. n how come so many pple going NTU!!?
Ok.. back to Sentosa.. pls try to understand it's not tt easy trying to contact everybody for a outing details etc.. esp when i'm still working (const i'm still working!) so, it'l be best pple respond here, ya! So, of coz it'll be good if it'll be on a Sat.. no reason for the guys for not coming.. hopefully we can have it on e 21st May, (the sat of the upcoming long weekend) so we dun hav to worry abt being too tired or too chao-ta after tt outing!! If the usual responders of this blog agree to this date, i'll jus go ahead n inform eveyone else k!! Heard that some pple out there *wink* actually jus read but DUN DARE to respond.. so pls.. everyone jus respond k!! Else the outing jus wun be successful!!
Anyone who can't make it on e 21st, pls list down all e Sats that u'll e free.. so it;ll be easier to arrange again! thanx thanx!
from Yuwei
03S73 rocking off at 4:14 PM
***
Wednesday, May 11, 2005
heyhey everyone!! its my first post! haha.. haven't seen everyone for so long.. miss ya all!! i wanna go sentosa too! (then i'll get sun burnt again but nvm la!!) anyway i got into nus sci.. yuwei too!! hee..dun tink i'll be staying in hall cos my parents not v supportive abt tat.. i'm still working at crepes n cream now so if u guys pass by muz come say hi ya? =>
-chewy-
03S73 rocking off at 9:28 AM
***
Monday, May 09, 2005
heya! long time never visit the blog le.. haha. are u all still working? the girls i mean. haha. i stopped working le. now slacking at home everyday. im going KL on thurs till sat! haha! but now i've got nothing to do leh.. cant believe im actually missing school and studying! i got accepted into pharmacy.. nus. i wanna stay in hall too! but my parents like dun really like the idea of me not coming home. so dunno if they allow yet.ooh! jaymie u doing the tcm and biomed sci is it double degree?! 5 yrs ar? wah.. like doctor like tt.. qutie long.. then go china and study one right for one yr or sth like tt? TCM also study in chinese? wah.. quite cool. heh.. yup.. lets have class outing!! the guys ard june have break right? is it ar? im not too sure also.. i wanna go sun tan!! lets go sentosa again!! haha. if not also can have bbq like tt time? haha.
alright..
till next time,
love, cons.
03S73 rocking off at 2:58 PM
***
Saturday, May 07, 2005
SIYING!!!!! there's a high chance i wud be going ntu to do biomedical science/tcm leh.. haha!!!! u got room mate already? if i go ntu i wud stay in hall oso.. den we can be room mates! muahaha.. and u can be my personal tutor too.. :P i went for the open day for school of biological sciences today.. saw meiting, dilys and eng hong.. haha! meiting wants to transfer course from biological science to my course.. :D heehee... i saw a lot of pple there today lor! many of my sec school friends too.. hmm.. i'm attracted to diz course coz the class is small.. heard it's onli 30+, dunno how accurate it is.. yah... and the new building is VERY PRETTY.. if i do science in nus, the class is so big... so i might not be so well "taken care of".. well, i'm still considering, but there's a high chance i wud be going over to ntu.. :D
anw, if u guys haf a chance, go listen to forever love by wang li hong.. it's nice.. realli nice.. and i was thinking we can haf one last class gathering b4 tianhan leaves on the 16th of june.. any takers?
jay rocking off at 11:15 PM
***
haha.. think i'm a blog-idiot.. was havin prob jus tryin to get in!!! lol..
all in chi.. dunno wat they r tokin abt!
anyway, i happened to be ard HC this evenin!!! miss e days MANZ!!!
haha.. was eatin at CURRY WOK... good food!! went there abt twice when still schoolin ah.. think once was after prelims chem prac!! haha...
oh well.. really really miss e days.. esp e class outins to sentosa.. hee...
yupz.. so.. eh.. go again kkz?? haha.. i'm so super FREEZ!!!! :D
HoNgZz!!
03S73 rocking off at 8:33 PM
***
hello people,
know this is going to be kinda off since everyone's only talking about the sentosa trip.haa..ok, anywae i just want to leave a note to let u guys know that i'll be going to study bioengineering in NTU and will have to stay hall for a year..i don't really want to stay hall arh..so yup, is anyone going NTU too??haa..
siying
siying- rocking off at 3:21 PM
***
Thursday, May 05, 2005
Yoz, long time no post. Anyway, i got my visa to go study in the US liao. Will be attending University of Michigan for engineering, maybe try to transfer to some famous schools, haha. I will be going to china first and will be leaving on june 16th, afternoon flight. Eh, I WANT TO GO SENTOSA!!!!
Han rocking off at 10:22 PM
***
Tuesday, May 03, 2005
hey people..how come our blog become so leng qing already.even tianhan has given up on it.haa..anywae,congrats to liangjun for making to ocs!!not bad,finally a guy from our class in ocs. =]
oh yar guess you guys should have gotten letters of acceptance from the universities you applied to right?mind saying where you guys going to?i want company!!haa..
siying
siying- rocking off at 12:53 PM
***